Best Compressors for Miniatures & Wargames Models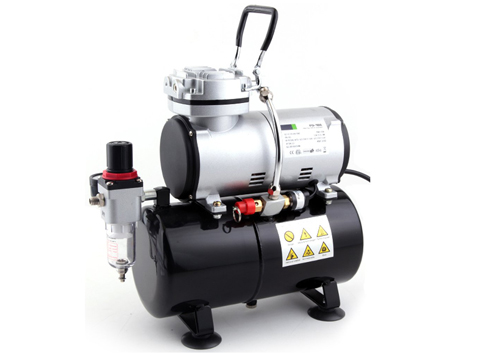 The Fengda FD-186
The Fengda FD-186 is a very well made and very quiet air compressor. Easy to adjust the output pressure. Single piston oil-free mini compressor with the pressure tank and with the regulator of the output pressure, which is equipped with the filter and pressure gauge (pressure gauge).
The great advantage of this compressor is that it has a pressure container. After it reaches the required pressure, it turns itself off.
Turns on again when the pressure tank teaches off. Low volume in operation.
Thanks to the low weight, it is portable and suitable for home and hobby use.
This compressor is often used in specialised nail salons.
This compressor can be used for the airbrush guns with the nozzles 0.2 - 1 mm.
Overall features:
Auto stop automatic (4 bar stop and 3 bar start)
Powerful, energy-efficient single-cylinder piston compressor with Built-in flow and pressure regulator,

Integrated air tank with compressed air reserve 3L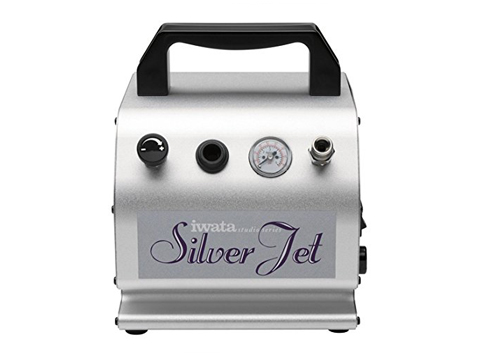 Iwata Studio Series Silver Jet
Iwata Studio Series Silver Jet
This little compressor is ideal for modelling, easy to adjust output which is then stable with no sudden increase or decrease in output.
The supplied air hose is really useful as it takes up no space in comparison to a normal air line and the overall build quality is very high. Small and compact with hardly any noise.
Overall features:
Low maintenance, oil-less single piston air compressor

Quiet running 110W motor, Pressure guage, Pressure Adjustment knob

Comes with coiled hose and free Iwata Pistol Grip Moisture Filter

Working pressure from 10psi to 18psi. Air flow: 0.33 CFM (9 l/min)
Fengda FD-18A - Airbrush Mini Compressor
Fengda FD-18A Mini Airbrush compressor
Features:
This Single Cylinder Piston Airbrush Compressor is a convenient and economical equipment
Its air pressure is adjustable and it has a pressure gauge displaying the real-time operation pressure.

And its auto start and stop function makes the compressor start at 3BAR(43psi),stop at 4BAR(57psi)

Together with airbrush whose nozzle is 0.2-1.0mm,it can be widely used in craftwork spraying, makeup, tattoo, tanning, hobbies/models, finger painting
Sparmax Arism compressor
A new generation of compressors with more power in smaller units.
The Sparmax ARISM compressor embodies the philosophy of Sparmax: raising performance and rising above expectations through continuous improvement and unwavering quality.

Reliable and functionally versatile, this innovative model exceeds the performance of similar sized compressors.

With a sleek and modern design, the Sparmax ARISM compressor is aimed at airbrush enthusiasts and artists looking for a compact, yet powerful, light-weight compressor for airbrushing.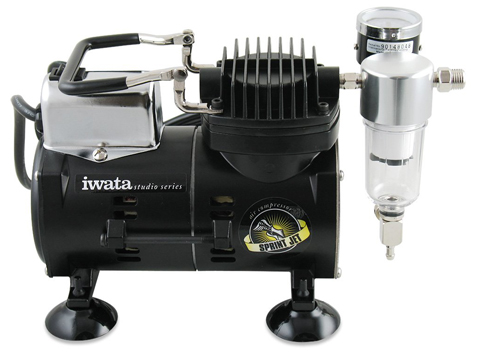 Iwata Studio Sprint Jet Compressor
Iwata Studio Sprint Jet Compressor
The Iwata Studio Series compressors are powerful, compact and quiet. With oil-less piston motors, they are low maintenance and affordably priced.
The Iwata Studio Series are the perfect companion to any of the Iwata airbrushes. The Sprint Jet has a manual on/off switch.
It is light and very portable and suitable for either occasional or professional use. Low maintenance, oil-less single piston air compressor.
Cooling hose and filter, which removes the moisture and prevents pulsing. Adjustable bleed valve on the bottom of the filter bowl to regulate air pressure
Iwata Studio Series Power Jet Lite Professional
Iwata Studio Series Power Jet Lite Professional
The Power Jet Lite is twice as powerful as a Sprint Jet, so you can run two fine airbrushes or one high-flow airbrush or a small spray gun. It is a quiet air compressor.
The Smart Technology automatically turns the compressor on when you press your airbrush trigger, providing instant air at the pressure you have set it, and turns the compressor off again when the airbrush is not in use.
The airbrush and hose in the picture are not included.
Features:
Low maintenance, oil-less twin piston air compressor, quiet running 1/6 Hp motor, smart technology automatic switching reduces running time and motor wear.
Protective outer case, cooling hose and filter inside case, which remove the moisture and prevent pulsing, mounted pressure gauge.

Air regulator for precise air pressure adjustment, Working pressure from 1psi to 60psi, comes with a 3 metre (10') vinyl hose.

Built in airbrush holder, On/off switch, Size: 26.5 x 31 x 15.5 cm, Weight: 7.9kg.